Creative Sign Designs Sustainability Case Study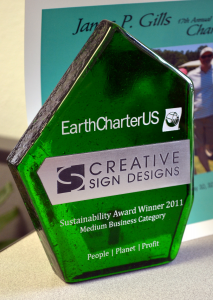 What Made Creative Sign Designs a 2011 Sustainable Business Award Winner? 
Creative Sign Designs specializes in turnkey architectural signage solutions providing consultation, design, fabrication and installation services for a full line of interior and exterior sign products for local, regional and national projects.
People  Creative Sign Designs believes the best way to be a good corporate citizen is to be an employer of choice by retaining and recruiting the best workforce in the industry.  They have increased their workforce by 18% in the past six months.  Employee programs include a comprehensive employee benefit program for all employees, company sponsored 401k plan, employee recognition program and monthly company-wide meetings including all employees.
Employees are involved in extensive community and charitable activities including American Cancer Society Making Strides, Walk to Defeat ALS, Habitat for Humanity, American Heart Association, St. Petersburg History Museum, Suncoast Hospice and YMCA of the Suncoast. 
Planet  Creative Sign Designs is dedicated to continuously researching new materials and technologies to improve their ability to create environmentally friendly signs, reduce waste and streamline processes. This includes eliminating stock marketing and sales materials to prevent paper waste, development of electronic marketing and sales brochures and a company-wide recycling program for aluminum, paper, glass, steel and plastic.
Creative Sign Designs is a NovAcryl Preferred Fabricator for Nova Polymers, which are processed in plain tap water and bond to a clear PETG panel that is non-toxic, Greenguard Certified and has a minimum of 40% recycled content. Other practices include the use of durable materials ensuring long-lasting products, modular construction enabling customers to extend or repair signage systems with ease and the use of responsible suppliers with a commitment to responsible environmental practices. They also use laser-printed paper graphic inserts that allow clients to use recycled paper and update signs in-house, Light-Emitting Diode (LED) signage that is 85% more efficient and sustainable ADA signage featuring nontoxic biopolymers with up to 40% recycled material. Creative Sign Designs has completed many LEED certified and interior and exterior green signage projects.
Profit  Creative Sign Designs has a national footprint, but their management and fabrication is centralized in Tampa, Florida.  In the last five years, the 2011 SBA winner purchased a 44,000 square-foot facility and hundreds of thousands of dollars of equipment.  Creative has won numerous awards and designations including the 2011 Greater Tampa Bay Chamber of Commerce Small Business of the Year and Inc. 500|5000 list of America's fastest-growing private companies.
---